Canopy Tents
View Trade Show Gallery
Canopy tents are a popular sight especially in outdoor events; and because they're a common thing to see around, we often forget to ask why they never seem to go out of style. One reason why canopy tents are a popular accessory during events is because they are designed to be both promotional and functional…and they get the job done really well.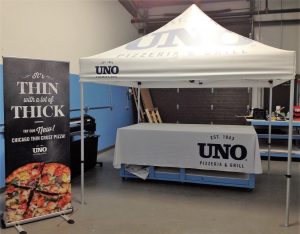 Canopy tents make excellent advertising tools because they literally stand out from the crowd. They are tall, visible, attractive, and have all that canopy space for the perfect promotional design. Quality canopy tents can effectively catch the attention of your target market and direct them toward your exhibit, stall, kiosk, etc. and generate customer footfall.
The functional side of canopy tents is pretty obvious. They give visitors and customers shade from the outdoors and give them the freedom to look around your display and check out what you have to offer.
Salient Sign Studio is an established local provider of canopy tents and our years in the business have helped us earn the knowledge, technology, and craftsmanship to create the ideal tent for your brand, event, location, timeline, and budget.
Call Salient Sign Studio today at (313) 314-3677 for your Free Consultation!
Functional & Attractive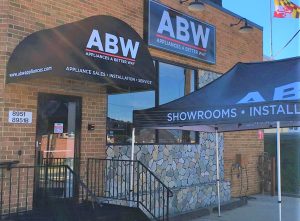 The canopy tent's attractive and functional aspects can serve two separate purposes, but they can also work hand-in-hand. The canopy tent's ability to provide shade and shelter to passersby makes it attractive and eventually brings in customer footfall. The wide space it covers also gives the business a sense of prominence and stability.
At the same time, the canopy tent's visual appeal and visibility allows passersby to notice its brand identity and figure out if they've found what they're looking for as well as how to get there. It serves as a billboard and wayfinder in one.
At Salient Sign Studio, we make sure that all of our clients' tents are attractive and functional. It's our priority that our tents catch attention, communicate a message, and then deliver positive customer experience.
Pop-Up Canopy Tents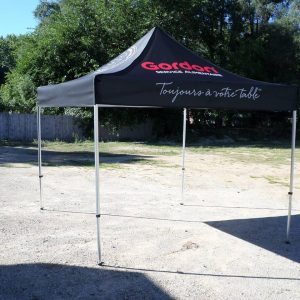 Pop-up canopy tents are ideal for more short-term, more temporary usage. Just like frame tents, they don't rely much on center poles. They also come in smaller sizes compared to the frame tents.
Because they were designed for more temporary usage, pop-up canopy tents are collapsible and are quite convenient to bring around and transport.. Easy to set up, move around, and take down, pop-up canopy tents are a great option for markets, small booths, and small exhibits.
Salient Sign Studio creates pop-up canopies that are not only great for transporting and short-term use, we also make sure that they're long-lasting. We source out the best materials from our network of suppliers in order to ensure the tents are both lightweight and durable. Our pop-up canopy tent frames can be made of aluminum, stainless steel, and steel, while our tent fabrics are made of quality polyester.
Full-Service Sign Company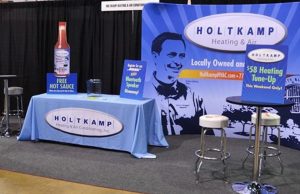 Salient Sign Studio not only produces canopy tents, we're also a trusted local signage provider. We have been in the print and sign industry long enough to know how important it is for every business to have cohesive branding, which is why our services can also include creating other promotional materials and booth elements along on top of high quality canopy tents.
We are proud of our talented staff members composed of graphic artists who help our clients with designs, project managers who walk our clients through the entire sign-making process, engineers who make sure that all our products work exactly as they should, and maintenance crew who provide exceptional customer support. We've got the knowledge, manpower, experience, and equipment provide the best tents and signage. And we can't to show you the quality of work that we do!
Free Canopy Tent Consultation
If you're looking for a canopy tent provider, we're the company for you. From your specified tent size, to custom-designed tent fabric, to assistance in setup, we've got you covered!
We'd be happy to answer questions, concerns, and clarifications from you as well. Just give us a call and we'll have one of our experienced specialists sit down with you for a free consultation.
Call Salient Sign Studio today at (313) 314-3677 for your Free Consultation with a Canopy Expert!